Contact Us
Bellevue
Phone | 425-449-8788
Text |
425-272-6979
Totem Lake
Phone | 425-896-8026
Text |
425-403-7029 
Visit the Spa
BELLEVUE | 1032 106th Ave NE, Suite #125
Bellevue, WA USA 98004 | DIRECTIONS
TOTEM LAKE | 11900 NE Village Plaza, Suite #176
Kirkland, WA USA 98034 | DIRECTIONS
Hours
9:45 AM – 10 PM Daily
Gratuity
20% Tip is the Spa Industry standard. Please feel free to show as much appreciation to your therapist as you'd like. For groups of four or more and for services of three or more gratuity of 20% may be added to your invoice automatically.
Parking
BELLEVUE | Three (3) hours of complimentary parking is available at the Belcarra Retail Parking Garage, but please note that spaces are limited and provided on a first-come, first-served basis. Keep this in mind while planning your visit. In case the parking garage is full, we recommend checking Google Maps for other nearby parking options.
Note: this garage is owned by a third party and not Yuan Spa. Please reach out to ACE for any ticket disputes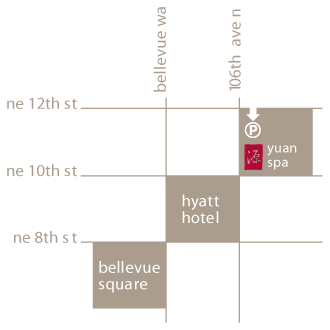 TOTEM LAKE | Complimentary parking is available throughout the Totem Lake Villages street level shopping area for our guests. On crowded shopping days, please allow for extra time as it can be crowded, or use one of the complimentary adjacent parking garages
BOOK YOUR ESCAPE
At Yuan Spa your appointment becomes an escape, your visit becomes a ritual, and you allow yourself to
Rediscover Your Source...