Cupping Therapy
Based on the principles of internal balance and harmony, this highly refined and complex discipline works to regenerate the body's organs and systems.
Wellness & Eastern Holistic Healing
Traditional Chinese Medicine is a holistic system of healing which has diagnosed, treated, and prevented illness for 3,000 years. 
Cupping Therapy
A Chinese Medicine essential, Cupping has been used for generations to decrease pain, increase local circulation and decongest toxic tissues. Cups are applied to the skin, creating a soothing suctioning effect, which renews movement, draws out toxic cellular build up and facilitates healthier tissue function.
:: 60 min  $135
Gua-Sha Therapy
A 2,000 year old therapy used by Traditional Medicine practitioners, this is a very popular treatment practiced by many in China. Gua Sha, which means to scrape or rub, is a valuable therapy in illness prevention and recovery. During your massage problem areas will be stimulated causing increased circulation which results in the removal of toxic heat, stagnant blood and lymph fluid. Vigorous movement of life force energy and removal of toxicity is vital to our health and well-being.
:: 60 min  $135
Bamboo Massage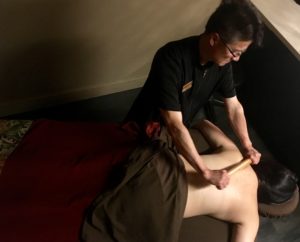 For generations, bamboo has been regarded as a Chinese symbol for longevity. Here it is used for this holistic health therapy.  Heated pieces of hollow bamboo combine with Swedish and Deep Tissue techniques to bring an extreme sensation of relaxation and well-being, reduce tension, make skin more supple, relieve tightness in muscles and tendons, stimulate the flow of blood and lymph, and regenerate and revitalize the body.
:: 60 min  $145
Lymphatic Treatment
This light and soothing therapeutic treatment is specifically designed to activate the lymphatic system. It draws out contaminated fluid from the tissues to promote the removal of bodily toxins and waste, and encourages a healthy immune system.
:: 60 min  $135
BOOK YOUR ESCAPE
At Yuan Spa your appointment becomes an escape, your visit becomes a ritual, and you allow yourself to
Rediscover Your Source...


CONTACT US
P. 425-449-8788
E. info@yuanspa.com