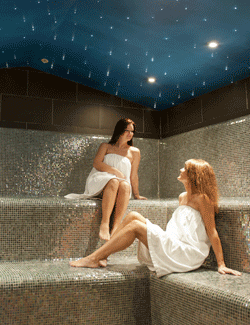 The Power of Water, Heat, Steam and Time
The belief in the curative powers of water are as old as the history of people themselves. Such practices have been popular worldwide, but are especially widespread in Asia and Europe.  Here at Yuan Spa, we pay tribute to the Chinese traditions of hydrotherapy, with a hot pool, a cooler pool, a steam room and a dry cedar sauna.
Through the healing of our hydrotherapy, we invite you restore that inner most part of you that keeps you going, and allows you to be you every day of your life.  Take time to relax, unwind and allow yourself to Rediscover Your Source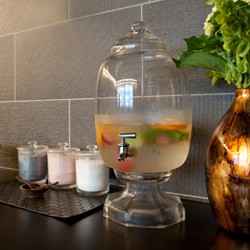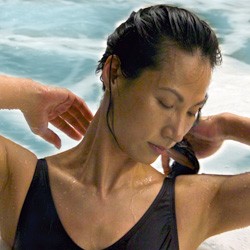 How Best to Use the Hydrotherapy
Hydrotherapy is a meditative ritual.  And as with most rituals, silence (or at least quiet reflection) will not only benefit your experience, but help to improve the experience of others sharing this space.
Please leave your cell phone in your locker.  Not only is it an opportunity for you to self-care through unplugging, but we cannot allow anything with a camera in the public bathing areas.
If you are new to Yuan's bathing pools, we suggest the following steps to enhance your hydrotherapy experience (recommended is 10-15 minutes per circuit)
It is traditional to cleanse the body before soaking – there are showers in the locker rooms and in the hydrotherapy area itself
Start with the Hot Pool:

Heat the body and soften the skin.  This is the first and last stage in the blissful bathing ritual.

Enjoy the twinkling lights of the Eucalyptus Steam Room:

We provide a variety of salts that can be taken into the Steam Room for a self-scrub.  Leave the salt on the body after you scrub and let the minerals soak into the skin
Rinse off in the Steam Room shower

Cool Pool:

Submerge in the cool pool and allow your body to adjust to the cooler temperature. 

Cedar Dry Sauna:

Take a cool towel for your face, or cucumbers for your eyes and relax in the dry heat, letting the water from the cool pool dry off of you
Need a break or feeling hot? Dip anytime into the cool pool, or take a thrillingly-chilling drench in our Cold Drench Shower, or move to the Relaxation room for a quiet moment and a snack.
Remember to bring your swimwear as we invite you to join us at this urban water sanctuary –  escape your routine – soothe your body and soul, and have an opportunity to unplug from the daily stresses and…
Rediscover Your Source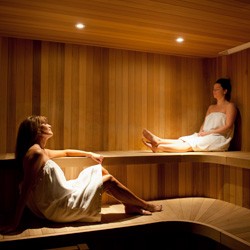 HYDROTHERAPY CIRCUIT
Hot Soaking Pool
Eucalpytus Steam Room
Salt Scrub Bar
Cedar Chromatherapy Dry Sauna
Cooler Soaking Pool & Cold Drench Shower
Relaxation Room with Tea and Snacks
Shower Facilities with Amenities
Reservations for Hydrotherapy Day Passes can be made Monday-Thursday to the public, and are reserved for Yuan Spa Members Friday-Sunday.   Complimentary day use of the Hydrotherapy is included with any single service of $125 or more any day of the week with no reservation. 
Hydrotherapy Day Pass: $45
Complimentary with any single service of $125 or more
Reservations are strongly recommended for Yuan Spa Members and non-members every day of the week, however we will accept walk-ins based on availability.
There is a 24 hours cancellation policy applied to Hydrotherapy reservations.
We accept Hydrotherapy group reservations for up to four based on availability.
Please keep in mind the comfort of those around you, keep voices to whisper.
For the comfort of all of our guests, Yuan Spa maintains a strict "no cell phone" policy in all areas of the spa
Yuan Spa Hydrotherapy is a co-ed facility, please be sure to bring your own swimwear.

BOOK YOUR ESCAPE
At Yuan Spa your appointment becomes an escape, your visit becomes a ritual, and you allow yourself to
Rediscover Your Source...