Dermaplane Facial
Also called microplaning or blading, a scalpel is used to exfoliate off the dead skin cells and vellus "peach fuzz" hairs leaving the skin more smooth, youthful and radiant.  Recommended for acne scars, dull skin, dry skin, sun-damaged skin, fine lines and wrinkles.  In addition, dermaplaning allows enhanced product penetration – essentially giving your entire service and powerful "boost" in efficacy. 
:: 60 min  $165 / 90 min $245
Add Dermaplaning to any Facial
:: 30 min  $85
Pre and Post Treatment Recommendations: 24-48hrs
Cleanse with gentle cleanser, non abrasive, no wash cloth or clarisonic, warm not hot water
Delay exposure to excessive heat, heavy workouts, steam rooms and saunas
Contraindications:
Dermaplaning is not indicated when skin is inflamed, peeling, swollen, bruised, or has delayed healing from other treatments or in distress. 
The following conditions are not suitable for Dermaplaning: Uncontrolled diabetes, cancer, active acne, bleeding disorder, cold sores, sunburn, excess terminal hair. Retin-A or retinol use within 5 days.
If you are on the following medications Dermaplaning is not appropriate: blood thinners, high dosage of aspirin, Accutane. 
Botox and fillers wait 2 weeks after injection or receive Dermaplaning prior to injections. 
Pre and Post Treatment Recommendations: 5 Days
No retinol, salicylic acid or benzoyl peroxide.
Sensitive skin: spot test all products before applying all over, test for irritation.
Darker skin tones and fitzpatricks: use a brightening serum to reduce any risk of PIH 2 weeks before and after treatment.
Avoid: makeup, alcohols, colorants, fragrances as they are all irritants that can cause contact dermatitis. Clean makeup brushes, sponges, pillow cases to minimize risk.
Dermaplaning & Waxing
Facial waxing: Wait 7 days after treatment to wax.
Waxing may be done prior to dermaplaning, waxed area is avoided during treatment.
BOOK YOUR ESCAPE
At Yuan Spa your appointment becomes an escape, your visit becomes a ritual, and you allow yourself to
Rediscover Your Source...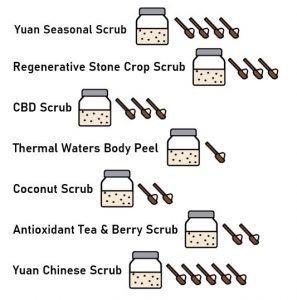 For Our Scrubs & Wraps | How Much Exfoliation Do You Want?
All of our Body Services will provide great exfoliation for the skin - but some are more "scrubby" than others.
How intense do you like your exfoliation to be? We use dry brushing, exfoliating mitts, salt, sugar, peels and more to slough your skin to look its finest.
Pick from one "scoop" all the way up to five "scoops" to find your perfect level of scrubby!
Grounding Mud Ritual (Bellevue Only)
This indulgent full body scrub and wrap will help to reground you from the tips of your toes to the top of your head. Full body scrub with Orange Peel and 10% Alpha-Polyhydroxy Acid is followed by a hair mask treatment, Reishi and Snow Mushroom face mask, and body wrap with the benefits of ancient thermal mud. Amaranth and Essential oil body wash, hydration application, shampoo and conditioner. Hydrate your skin for an immediate sensation of silkiness and comfort - leaving you your best self to take on whatever the world may bring :: 2 hours 10 min  $320
Anti-Inflammatory Contouring Wrap
Stone crop (a succulent in the aloe vera family) boasts powerful regenerative properties. Paired with the anti-inflammatory benefits of turmeric, horsetail, and horse chestnut, this scrub and wrap increases micro-circulation and improves the look of cellulite. Enjoy a head & scalp massage while wrapped up and tucked snugly under a weighted gravity blanket. After a quick rinse, an application of our stone crop contouring cream, containing coffee extract and microalgae, will continue to work on cellulite and diminish wrinkles for hours to come to revitalize and repair your skin :: 60 min  $160
CBD Lavender Scrub & Herbal Hydration
Manual dry brushing is followed by a powerful blend of 100mg of water-soluble broad spectrum CBD, premium Dead Sea Salt and calming lavender essential oil . After a quick rinse, enjoy an application of a 250 mg CBD hydrating menthol cream with eight organic herbs, arnica and rosehip oils. The herbs, including arnica, ginger, calendula, comfrey and dandelion, combine to create a luxurious and deeply penetrating moisturizer for the entire body rich with aromas of lavender, cedarwood, vetiver, and orange :: 60 min  $160
Watermelon & Basil Scrub

Watermelon is becoming the Holy Grail for hydrating body products. This refreshing body polish was named among "The Best Watermelon Products" by Real Simple Magazine. It combines Square One brand organic vodka, basil and watermelon seed oils with sugar and rice bran oil for a luscious and refreshing exfoliation that renews your skin and leaves an absolutely tempting scent in its wake :: 60 min  $160
Yuan Signature Chinese Body Scrub
Our Signature Chinese Body Scrub removes excess oils, dead skin cells and opens clogged pores while invigorating your skin with powerful herbal benefits. Traditional East Asian scrub mitts are used to leave your entire body feeling clean, invigorated, and incredibly soft and smooth.
***For optimal results, please arrive 20 minutes early and remember your swimwear for 10 minutes to steam prior to this service. If booking multiple appointments, we recommend this scrub be booked before other massage, facial, or body services  :: 50 min  $160
Yuan Signature Chinese Body Scrub Ritual
Enjoy the detoxification benefits of our Yuan Signature Body Scrub followed by a moisturizing application of hydrating oils for the body. Be renewed from the tips of your toes to the ends of your hair! Choice of either a hydrating fresh-grated cucumber facial mask, or the Davines SOLU sea salt scalp scrub, Circle Chronicles Hair mask.
***For optimal results, please arrive 20 minutes early and remember your swimwear for 10 minutes to steam prior to this service. If booking multiple appointments, we recommend this scrub be booked before other massage, facial, or body services  :: 110 min  $235
ASMR Tranquility Therapy with Comfort Zone
The autonomous sensory meridian response (ASMR) is an experience characterized by a static-like or tingling sensation on the skin.  In our go-go-go world, we can lose track of our calm center, plagued by stress and even insomnia. Studies show that ASMR therapies can lower heart rate, repair sleep patterns, and restore overall health. This deeply relaxing service uses our patented Comfort Zone Tranquility brushes and feather-light finger movements down the meridians of the body. Comfort Zone Tranquility Oil and Body Lotion combine lavender and other soothing essential oils to tap into your body's olfactory and parasympathetic nervous systems to help you rediscover your inner calm, and repair your body's sleep rhythms.
:: 60 min  $160 / 90 min ASMR with Tranquility Hand Cream and Paraffin $210
Hair & Scalp Therapy
Powerful blends of customized Yuan Spa nourishing oils and botanicals, along with luxurious leave-in hair masks from The Circle Chronicles will help the health of hair and scalp whether you're looking for relief from dandruff or eczema, recovery from color damage or thinning hair, or a soothing volume & hydration boost. Warmed oil is applied to the scalp using a combination of pressure point and vigorous Chinese Gua Sha techniques. The scalp and hair are then masked and brushed with a customized mix of The Davines Circle Chronicles Hair Masks. (full menu available HERE)

The Spotlight Circle: for extra shine | The Quick Fix Circle: for multi-tasking treatment | The Let it Go Circle: for relaxing moisturizing and softness | The Restless Circle: for elasticizing anti-breakage | The Wake-Up Circle: for revitalizing stressed hair | The Purity Circle: for anti-pollution & purification | Renaissance Circle: extreme repair for hopeless hair

The head is then wrapped in a soothing heated compress while the hands and feet are massaged. Hair is nourished and repaired, and the scalp is soothed and healed. Masks and oils should ideally be left on the hair for 2-3 hours or even overnight.

Treatment Hair & Scalp: Aimed at treating dandruff, itchy scalp, and hair loss. Vigorous gua sha techniques increase circulation and clear follicles; masking and oils balance scalp pH and improve the health of the scalp :: 60 min $150   add multi-masking enhancement :: no added time $10 per mask

Hydrating Hair & Scalp: Soothes dry and heat-damaged hair, promotes health of hair to encourage growth, nourishes the scalp, and leaves a natural shine and luster to rough, frizzy hair :: 60 min $150   add Multi-masking enhancement :: no added time $10 per mask
The Thermal Waters of Pisa ~ Body Peel & Purifying Algae Wrap
Manual dry brushing exfoliates and stimulates the lymphatic system. A uniquely designed self-neutralizing alpha-hydroxy peel of glycolic & lactic acids is painted across body, followed by a full body mask with aromas of citrus and peppermint - composed of thermal water from sources in Italy, renowned for generations for nutrient rich healing properties and two distinct kinds of micro algae: Laminaria and Fucus, utilized for their remodeling, slimming and warming capabilities. This potent mask also contains matcha green tea powder for detoxification and an extra dose of antioxidants. Enjoy a head & scalp massage and while wrapped up and tucked snugly under a weighted gravity blanket.
:: 60 min $160 / 90 min adds full body thermogenic fat-burning treatment & patented Body Strategist Elasticity Oil for increased cell metabolism $230
Stem Cell Coconut & Monoi Body Resurfacing Treatment
Skin is buffed with a blend of raw sugar cane granules (rich in natural alpha hydroxy acids) for head to toe exfoliation. Virgin coconut oil, mixed with cucumber and comfrey provides penetrating and lasting hydration and essential nutrition to dehydrated skin. Beautifully fragrant Tahitian monoi flowers hydrate and firm. Argan stem cell complex, nutmeg, and a botanical hyaluronic acid with natural shea butter smooths and plumps the skin and minimizes the appearance of fine lines and wrinkles :: 60 min  $160
Craniosacral Therapy
Craniosacral Sessions are customized to each individual, but typically involve gentle holds on the head (cranium) and sacrum.  The sessions are extremely meditative and profoundly relaxing. Craniosacral sessions can be done fully clothed or combined with massage (disrobed to guest comfort level and standard professional massage draping). It is best to come to a session without too much caffeine and prepared to relax and listen to your body for the duration of the session.  Craniosacral is particularly good for long-term and chronic stress patterns that are present in the body. The patterns of holding we have in our bodies are often unconscious but can profoundly effect our health. While Craniosacral sessions may involve a slower pace and gentler touch, the outcomes can be significant and long lasting :: 60 min  $165 / 90 min $225
Lymphatic Treatment
This light and soothing therapeutic treatment is specifically designed to activate the lymphatic system. It assists the body in draining excess fluid from the space between blood vessels and surrounding tissues to heal injuries and encourage a healthy immune system :: 60 min  $165
*note: not recommended for treatment of lymphedema or to replace the advice of a medical practitioner
Yuan Signature Radiant Foot Treatment
Integrating Chinese acupressure point principles to help remove the blockage of Qi (energy) in the meridians and restore the balance and well-being in all body systems. This service begins with aromatherapy inhalation, and light massage working along the main energy lines of the head and scalp.  This energy path is continued along the hands and arms, and then down to the legs and feet, where meridian points, foot massage and hot towels will leave you feeling grounded and reinvigorated.  Includes paraffin on the hands -or- feet (or both for $20 enhancement), Please let your therapist know your preference. *not recommended in the first or second trimester of pregnancy :: 60 min  $150
*In Bellevue, this service may be done in a Treatment room or in our Pedicure area dependent on availability.  If you have a preference, please let us know at booking and we will do our best to accommodate you 
Head-to-Toe Ritual
This service is an extended version of the Yuan Signature Radiant Foot Treatment described above adding additional paraffin therapy to the feet as well as hands, and includes additional attention to the hands, feet, neck, shoulders and scalp *not recommended in the first or second trimester of pregnancy :: 90 min  $210
*In Bellevue, this service may be done in a Treatment room or in our Pedicure area dependent on availability.  If you have a preference, please let us know at booking and we will do our best to accommodate you